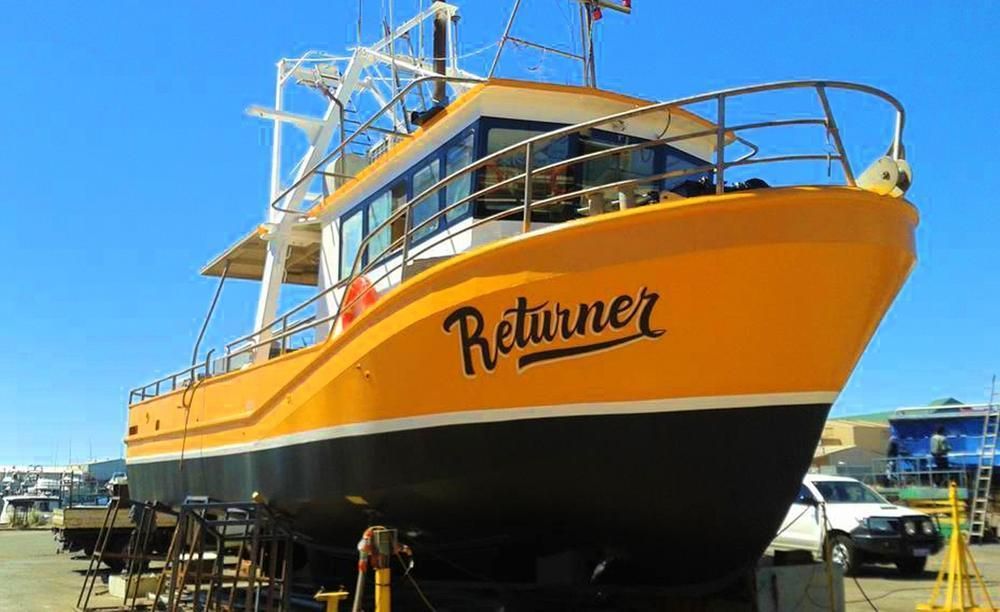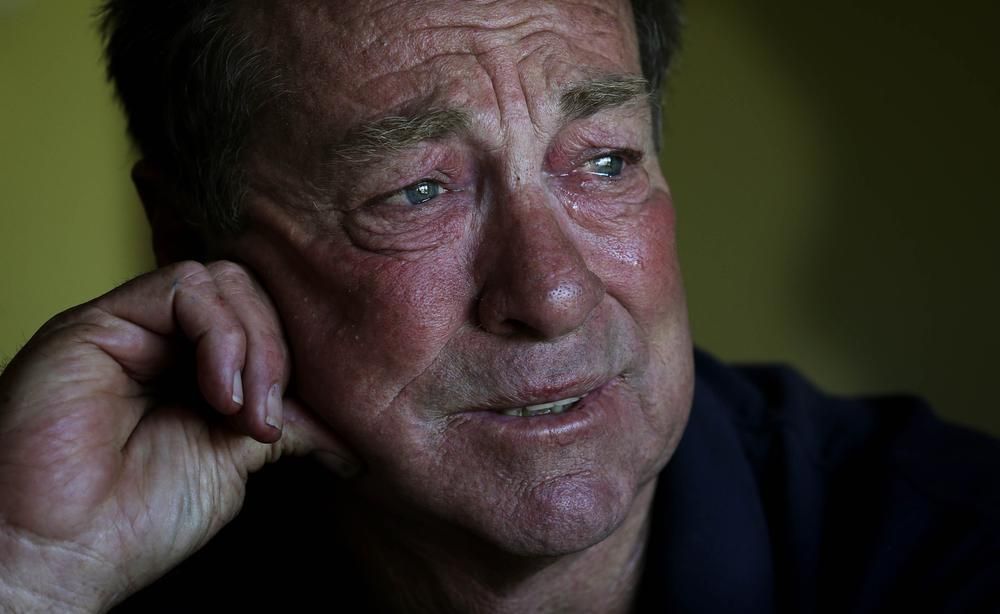 Fishermen's families accept the worst
The families of three men missing off the Pilbara coast for eight days say they accept they are now searching for the bodies.
Chad Fairley, 30, Mason Carter, 26, and Murray Turner, 57, were due to return to Point Samson last Wednesday after a 10-day prawn fishing trip on the 13m trawler Returner but never arrived.
A transponder monitoring the boat stopped working about 1am on Saturday, July 11.
A land, sea and air search was partially abandoned yesterday when police suspended their land search to focus on recovering the vessel. The announcement did not come as a surprise to the families, but Chad Fairley's father Alan said it did not deter them from continuing their own efforts.
"They warned us beforehand, 48 hours in the water, six days without food, but we're the parents and we're fortunate we've got this wide network of friends who are searching," he said. Last night almost $90,000 had been raised by members of the public to help with the costs of looking for the Returner privately.
Air and water operators in the area have also been generous with the use of their equipment.
Mr Fairley said the support overwhelmed him and he was determined to find the Returner to try to give his and the other two families some closure.
"I think we've exhausted the opportunity to find them alive and I'm just hoping they are on the boat and we get some closure," Mr Fairley said.
"We don't want to leave this open."
Mr Carter's father Barry paid special thanks to the water police division, saying they had been "compassionate and helpful" throughout the ordeal.
Mr Carter said he was also grateful for the way water police had accommodated his three other sons as they searched.
The Department of Transport yesterday sent its hydrographical survey vessel Alex Hanson III to Karratha to assist.
The boat has equipment aboard that is used to map the ocean floor accurately and locate objects in shallow water such as those in Nickol Bay.
It will join other commercial underwater survey operators using specialised sonar-mapping equipment.
Missing Western Australian trawler found with body of one man on board
Police divers have confirmed they have found the sunken wreckage of a fishing boat that went missing with three crew members off Western Australia's north-west coast 18 days ago.
A body believed to be one of the three missing fishermen was on board the boat, which was found during an underwater search 20km north of the Karratha Nickol bay foreshore.
Murray Turner, Chad Fairley and Mason Carter set off in the commercial prawn trawler, the Returner, on a 10-day fishing trip and were due to return to Point Samson, a small fishing town near Karratha, about 1,580km north of Perth, on the morning of Wednesday, 15 July. The last communication with the 13-metre trawler was on 11 July.
All three men are from Geraldton, a regional town about 1,150km to the south.
The wreckage was picked out on a sonar scan on Wednesday, and police divers began searching the 200 sq km area on Friday.
A WA police spokesman, Adam Brouwer, confirmed the identity of the boat on Sunday, and said the body would be flown to Perth for formal identification. The families of all three men have been notified.
By Sunday, a fundraising campaign run by Lisa Dawson, the wife of Fairley's cousin, had raised $180,000 to support the search efforts, including hiring a magnetic data aircraft and private helicopter.
In a statement posted on the gofundme.com page late on Saturday, Dawson said the body had been identified as that of Murray Turner. Turner, at 57, was the oldest and least fit of the crew.
She was still holding out hopes they would find Fairley, 30, and Carter, 26, who were described by police as "very fit and good swimmers".
"Windows in the wheelhouse were knocked out so it looks like the boys may have made it out," Dawson's update said.
"More helicopters, boat and skis went out again today to cover more land. We can't help but have a small bit of hope … Still searching."
A life raft, personal emergency beacon, rations and some fishing supplies washed up on Dolphin Island the day after the boat was expected to make port.
Fairley's father, Alan, told the West Australian five days into the search that he feared they had "exhausted the opportunity to find them alive", but said, "I'm just hoping they are on the boat and we get some closure.
"We don't want to leave this open."
All the Fairley family has of Chad is a single shoe, bought from his cousin's surf shop, which was among items washed up on Dolphin Island.
"Credit to the police. They let me take it home and show it to my parents so that they at least had something of Mick's before it had to go into evidence," Chad's brother Kane told ABC radio north-west on Tuesday.
"It was a little bit comforting to at least have something."
When he last spoke to his brother, a few days before the boat was declared missing, "he couldn't wait to come meet his nephew", Kane's newborn son.
He thanked the community in Geraldton and the Pilbara for their support and generosity.
"It's changed my scope on the way human life is again," Kane said. "I didn't think people were so giving. We have been getting fed every night; people have been accommodating us. It's touching.
"If anyone ever was in Geraldton … and they ever mention that they are from Dampier or Karratha, they can stay with me. I would do anything for you people now, after what you have done for us."
Kane said the family's priority was to find the boat, and hopefully the bodies, so they have enough evidence to satisfy a death certificate.
"Everyone is just hurting so much so we're not going to stop until we have closure," he said.
Apparition haunts father of missing fisherman
The image has been haunting Barry Carter ever since he saw it three weeks ago.
Sleep deprived and desperate after searching for days through rugged terrain in the Pilbara to find any signs of his missing son Mason, it came to him like an apparition.
"I lay down and as soon as I shut my eyes ... he came to me right in my face, right in the centre of my face," Mr Carter toldThe Weekend West. "And I knew what he was going to say.
"I was just looking at him and he went, 'Dad, you're going to have to let me go'."
It has been almost two months since the prawn trawler Mason was aboard sank off the Pilbara and the anguish of the loss is etched deep into his face.
A beloved son to Mr Carter and his former wife Brigitte, Mason was also the inspirational oldest brother to four siblings — Codie, Liam, Jesse and Charlotte.
With so many questions over his disappearance unanswered, Mr and Mrs Carter this week spoke from Kalbarri about their torment and the extraordinary lengths to which the family has gone to find him.
From jetskis, helicopters and boats to four-wheel-driving across jagged rocks and crawling through mangroves, they have pushed the limits of their endurance "to find something, even a pair of boardies".
But as weeks without a trace turn into months, the hopes of finding him fade.
"We probably knew that we weren't going to find anything but deep down there was a part of us that didn't want to leave him there alone," Mr Carter said.
That Mr and Mrs Carter went to such lengths to look for their son rests as much on their faith in his ability to survive as it does on their love for him.
At 26, Mason was a noted big wave surfer and an "exemplary" boat operator part-way through advanced nautical training.
He was also, as his parents noted, a skilled bushman at the peak of his considerable physical powers.
"It wasn't unthinkable," Mrs Carter says.
After setting off in early July on a 10-day trip from Point Samson, north-east of Karratha, the boat Mason was aboard with his childhood friend Chad Fairley and skipper Murray Turner never returned.
In a bitter irony, the trawler was called Returner.
Although a search would later find the wreckage of the vessel at the bottom of Nickol Bay near Karratha, with the body of Mr Turner inside, Mr Fairley, 30, and Mason are missing, presumed dead.
A transponder used by the Fisheries Department to track the movements of commercial vessels sent its last signal days before a search was launched.
Mrs Carter said her greatest agony was the thought her son may have survived the capsizing but it was days before the family were notified.
"I think the tormenting part as a mother — for all of us really — is the knowledge that for those first few days we could have helped if we'd known," she says.
As authorities prepare to refloat Returner, Mr Carter said that short of Mason walking through the door, "I don't wan't closure".
But Mrs Carter said there was always hope.
Neither is willing to let go.
"If you set out to design a son before you had him, Mason is what you'd end up with," Mr Carter says.
A memorial will be held for Mason and Chad Fairley at 11.30am today at the Nagle Catholic College in Geraldton, followed by a wake at the Railways Football Club.